With the arrival of accessible and affordable photography in the late 19th century, the general demand for painted human and animal portraits declined. However, an oil or watercolour painting was still considered a more significant record of an event than a photograph. 
From the earliest days of organised pigeon racing, and for that matter 'fancy' pigeons bred to show, special prizes had been awarded for outstanding performances and particular events.
Today these are often photographs but in the late nineteenth and the first half of the twentieth century it was common for a portrait painting to be commissioned of the winning pigeon.  Pigeon racing was a popular pastime in many areas of the country and the demand for such trophies was at its highest in the 1920's. 
But not all were terribly impressed with the portraits as Martin Johnes writes in 'Pigeon Racing and Working-class Culture in Britain, c. 1870–1950'.
"However, for some racers, paintings were not lifelike enough. One letter to The Racing Pigeon stated that paintings did not "represent the true outline of a bird, being too stiff" (RP, 1898 (1(33):533)). Another racer sent the paper a copy of an oil painting of a bird named 'Favourite', which he criticised as "very misleading", giving "the impression of being made to order" (RP, 1904 (13(620):532)). 
Thus, paintings created an illusion of a fixed, stable, and somewhat formulaic athleticism, similar, in a way, to racers' preoccupations with pedigree breeding. The static display of pigeon athleticism in paintings, however, seemed contradictory, unable to capture the movement of these athletes and their ability to conquer the skies. 
Paintings, then, were too aestheticized and inaccurate for some pigeon racers, although they were not discussed very often in The Racing Pigeon, suggesting that their birds' performances were, perhaps, more important to racers."
One can understand their point, but I suggest that it is this static representation of the birds that makes them so popular with today's collectors and many are held in private and public collections of folk and naive art throughout the UK.
 The Artists
There were several notable pigeon artists, their paintings still popular today, each with his own recognisable painting styles. (They were all men as far as I know).  None of these artists, it is thought, had any professional training which resulted in an unusual technique for capturing the shape, stance and backgrounds of their subjects.  
Surprisingly, pigeon lofts rarely feature in the background of the pigeon portraits.   Most artists painted the birds against of landscape and sky, and would include the breeders name as well as that of the pigeon's ring number and performances.  Lofts by this time were generally a shed type structure in the owners garden.  The name derives from the time that pigeon were kept in roof spaces or lofts.
The following five artists are perhaps the most well known for their pigeon portraiture, but this is by no means an exhaustive list.  Many portraits exist by competent artists both signed and unsigned, in the UK and Europe, specifically France and Belgium. 
E H Windred, South East London and Kent

Andrew Beer, Bristol and South Wales

J Browne, possibly Northumberland, Cumberland and Lincolnshire

A Embleton, possibly the Greater Manchester/Liverpool areas

J Ryder, Sheffield 
I will discuss briefly their biographies where known, and show examples of their painting technique which I hope will enable the reader to recognise their styles.  I continue to try to find biographical details on the artists, which will be included in the article if and when.  I would love to receive any information readers may be willing to share.
---

No-one knows how many pigeon paintings were produced but their peak was in the 1920's and 1930's when several artists were working on such portraits. Probably the most prolific of these was E H Wndred whose paintings remain some of the most frequently available and popular with collectors. 
I found by far the most detailed information on Windred thanks to the research carried out by Mark Hewitt.  Mark owns a Windred, which had been hanging in his fathers shed until he rescued it, and intrigued, started researching, which ended up as this website:  ehwindred.co.uk/
It is with Marks permission that I am using many of the facts from his website. 
Throughout his life Edward's occupation seems to have varied from being "bricklayer" and "hairdresser", and from census data it appears he remained a hairdresser until at least 1940  It is not clear how he could have alternated between two such different trades with no obvious aesthetic overlap, and at the same time develop his painting skills, but somehow he managed it.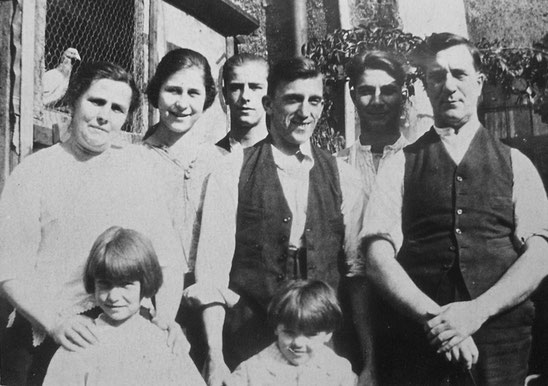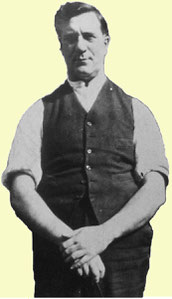 The Windred family group 1920's.  Note the pigeon loft behind.  
He is reputed to have travelled to many meetings, where he probably took commissions to make portraits of prize winning birds. 
Further to an article in the Racing Pigeon magazine, Mark was contacted by Roger Lucia, a grandson of E H Windred, who provided the following information:
"Although he is predominantly known for his pigeon portraits, E H Windred also painted other subjects in oils on canvas such as copies of 'Monarch of the Glen', sheep in a highland landscape, deer in a highland landscape and also scenes with dogs.
He was the son of W Windred, a builder, based in South London whose yard was in the New Cross area. W Windred was a 'sporting gentleman' who also had some talent for painting in oils.  At one stage he employed an artist on his building work who was 'down on his luck' and whose work had hung in the RA and so he thought that this gentleman might be better employed teaching his already talented son to paint. 
E H Windred did therefore have some training as an artist.
He was indeed a barber and had a shop near New Cross Gate railway station. For the pigeon portraits, clients would bring the birds to his shop so that he could paint them during the one (or more) afternoons during the week when he was closed. I am not sure about whether he used the outline silhouettes mentioned in the article or not as his only surviving daughter (my aunt) who is now in her eighties does not remember it but it might have been useful at times of high output. He would however very often keep these birds for a period of time when he was painting them and because of their value would go to great lengths to ensure their security while they were with him."
As mentioned above Edward's father had some talent for painting, and in the 1891 census his occupation was  listed as being a "Bird and animal painter".  Edward inherited his artistic skill, but not to a degree to to provide a living income.
Mark Hewitt believes that the winning birds were bought to Windred at his barbers shop, and that he had a number of silhouettes of pigeons made up in cardboard or ply which he would match up to the pigeon. Once he had found the shape that best matched the bird in question,  he would draw around it to get the outline of the bird. 
To get the colours of the feathering right, Windred would keep a few feathers from the bottom of the cage as a colour reference after the bird had been returned to its owner,  and use these as a guide for his painting. 
It must be noted that this silhouette method has been disputed by Windred's grandson.  I am however inclined to believe this theory and feel that the silhouette system was not only used by Windred, but all the pigeon artists. After all a racing pigeon is a racing pigeon. They don't look that very different from one another, other than their feathers - so why not?
Also I am sure the artists weren't paid a great deal for their efforts, and the use of silhouettes and well tried and tested backgrounds would surely speed up the painting process. It would be wonderful if an original invoice, if such things were ever produced, were to surface. 
Edward Windred painted in oils, in landscape format on a textured canvas.  His style is typified by a finely painted pigeon in a loosely sketched and sometimes thinly painted indeterminate landscape. His work is instantly recognisable by the inscription written along the bottom in a neatly defined panel, usually painted in brown, on which with the pigeons history and successes are inscribed.  He signed his work E H Windred either bottom left of right above the panel.
Windred's painting style remained the same over the years.  Visit Mark Hewitt' gallery for portraits dated between 1920 and 1940:  http://ehwindred.co.uk/Gallery.html
---

William Andrew Beer (1862-1954) was an English artist, and is well known for painting racing pigeons, in oils on both canvas and board, under the working name of Andrew Beer.  A racing pigeon enthusiast himself, he was also a judge at competitive pigeon shows, and his portraits were commissioned by clubs as a prize for the winning owner.  
Beer had a studio in Eastville, Bristol, to which the pigeons he was to paint were sometimes sent by train, arriving at the nearby Stapleton Road Station. His works are in the collections of Bristol Museum & Art Gallery, Pontypridd Museum and the Radstock, Midsomer Norton & District Museum Society. He was painting until the early 1950's and hence had a large output.
He painted pigeons at near life-size, singly or in small groups, in profile view, landscape format, often in a bright palatte. His birds tend to stand on a ledge against a landscape, often with a rocky background.  You will see  the similarities in compositional technique in the small gallery of his paintings below: the background of rugged crags and cloudy skies, the pigeon beautifully painted, with its achievements annotated by hand at the bottom of the composition, with his signature bottom left or right. 
---

J Brown/e
active 1920's/30's
J Browne is mysterious artist.  Very little is known about him except that he painted in the 1920's and 1930's, and that on occasion he signed his name Brown without the 'e'.  Perhaps he had little education and and spelling wasn't his top priority.
Emmanuel Cooper in his book People's Art. , 1994, states:
"J K Brown, who worked at much the same time as Windred, travelled round the Midlands and in Northumberland and Cumberland; for small sums, or even just a meal and a bed he would paint a portrait."
Unfortunately, I have found no corroborating source to back up this statement as yet.  
Browne can be described as minimalist and makes little attempt to depict a landscape, the birds placed against a large sky in an even pastel light, with occasional shadowy hills in the distance, and a couple of birds in the sky.  There is a quietness and calm about his paintings.  Although formulaic those who have seen Browne's oils will no doubt have been impressed with the intelligent profile of the birds and the iridescent neck and chest feathers, which are painted in his  unique style, fine and slightly impasto. Browne also painted the race codes on the pigeons' foot tag, which is rarely found with other artists.
He painted on board, landscape format, and signed and dated his work, to the bottom left or right, with the inscription centred at the bottom.
---

A Embleton
active 1906-1914
Biographical information on Embleton is not easy to find, but I have not seen any work outside the dates 1906 - 1914. Perhaps he was a young man and enlisted for WW1 and never returned.  I would also suggest that he lived and worked in the Greater Manchester and Liverpool areas.  Embleton does appear to be a name associated with this area, but also of Northumberland.   He shows the typical smoking chimneys and grey skies associated with these industrialised areas of that period.
He painted winners in Wavertree, Liverpool and of the Burtonwood Pigeon Society which still exists, although probably a small town or village in 1910, now is classified as Greater Manchester, located near Warrington, on the Cheshire/Lancashire border.
He had a very distinctive strong painting style, in portrait format, his birds all standing in profile on a wide red brick wall, and often with a building with chimney, sometimes smoking behind, and with birds in the sky.  He captures the iridescence of the birds neck feathers beautifully.  He painted primarily on board, and signed his work A Embleton with the date bottom right.  Any inscription detailing the feats of the bird, owner or club was written on the gold slip, which unfortunately has not always survived with the painting.  
---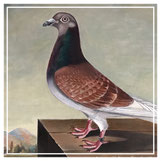 J T Ryder
b1881
active c1912-c1960
Biographical information has been provided by Sheffield Museums with thanks.
John Thomas Ryder was born on 28 January 1881 in Darnall in Sheffield, possibly the son of Tom and Sarah Ryder. He began his working life as a coal miner and corporation timekeeper. Ryder is described in the 1904 Kelly's Directory for Sheffield as John Thomas Ryder, painter, living at 18 Bowood Road, Sheffield 11. 
In 1906 he married Gertrude Emma Brown, also from Sheffield and in the 1939 census, he is recorded as vehicle painter and writer.  Pigeon racing was a popular sport in the Sheffield area, and no doubt many commissions could have come his way, so one can safely assume that his pigeon portraits were executed in his spare time.  It is not known if he was a pigeon racer himself.
John Ryder was an associate member of the Sheffield Society of Artists from 1934-44 and exhibited with them from 1934-1939. In Sheffield trade directories from 1938 to 1940, he is listed as John Thomas Ryder, Painter, and still living at 18 Bowood Road.
Visit the ArtUK website and you will find that Ryder has several paintings listed, but if indeed they are by the same person, his style had changed considerably from the time he was painting pigeons.  https://artuk.org/discover/artists/ryder-j-t-active-c-1933c-1960.  In December 2019 at Southgate Auctions, London, a pair of heavy horses in landscapes signed and dated 1940 were offered. In my opinion he was a better painter of pigeons than of horses, but similarities of style were evident. 
Ryder pigeon portraits do not appear on the market often and are highly sought after.  He painted in oils on canvas, in a landscape format.  His birds are colourfully painted and are rather fragile, delicate creatures.  They invariably stand on a ledge of some form, against  a sky of billowing clouds.  His birds all tend to face left, and at the bottom left is a delicately painted view either of buildings or a landscape detail.
---
---
For those interested in the history of pigeon racing and pigeon fancying/breeding printed certificates can still be found at a far lower cost that the oils. These were usually  a printed image of a generic bird which were overprinted with the Race or Association award details.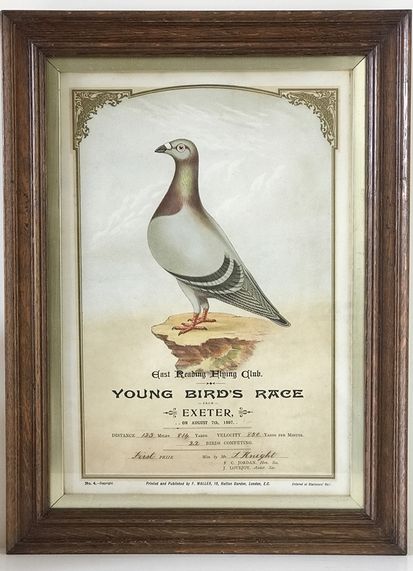 ---
Copyright and Sources:
Artuk
Bristol Museum, Galleries and archives - Windred
Pontypridd Museum - Beer
Compton Verney Museum
Rotherham heritage services Ryder
Thesaleroom.com Ryder
rpra.org
The Racing Pigeon Magazine
Extracts from 'Pigeon Racing and Working-class Culture in Britain, c. 1870–1950', Dr Martin Johnes, History Department, Swansea University
ehwindred.co.uk
Cambridgeshire Community Archive Network