---
---

Brightly coloured jumping jacks, a simple children's toy from so many years ago, can still
bring a smile to the face of even the most tech-savvy.   Read on for a little more information
on this most charming of folk arts.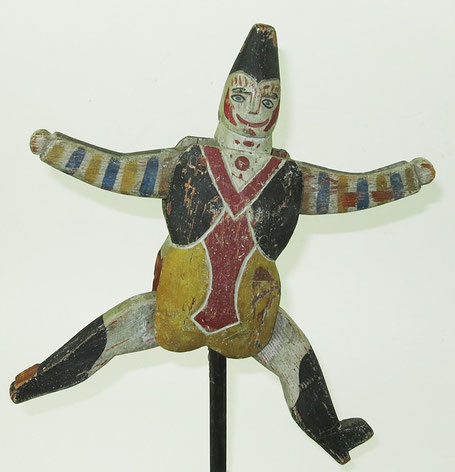 Jumping Jacks:  A Brief History
The jointed jumping jack toy is a cross between a puppet and a paper doll, and is a toy whose origins date back thousands of years.  The figures are usually made from painted wood and their limbs are jointed and tied to a pull string.  When the string is pulled from below, the arms and legs move up and down.
The jumping jack is popularly thought of as a European toy, but similar 'dancing' toys made from ivory have been found  at the archaeological site El Lisht, dating from the ancient Egyptian period, making this form one of the earliest mechanical toys.
Jumping Jacks as we know them, were probably originally manufactured in the Erzgebirge region of Germany, a  poor mining and forested area.  In the 17th century, simple toys began to appear such as small spinning tops, jumping jacks, and other handmade articles.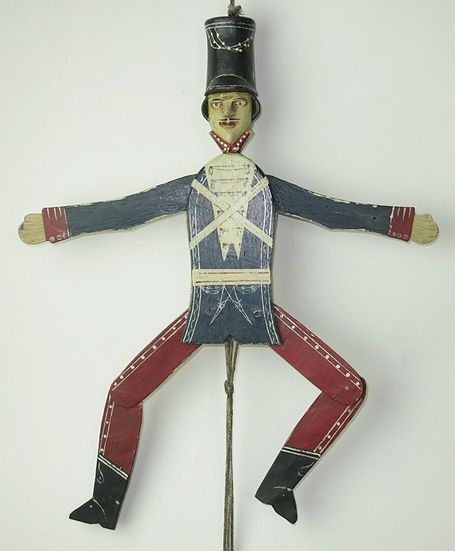 Most of the early wooden articles were made in the homes of villagers and later whole villages were devoted to the production of wooden toys, including Noah's Arks, nut crackers, etc. It is known that as early as 1750 toys from this area were sold at Christmas fairs.
Only in later years did some of the production move to factories, and these charming jumping jack toys became highly popular throughout Europe.
Jumping jack toys also became a favourite of the French court in the mid 18th century. Often famous artists designed these toys, and members of the French court competed with one another to see who could put together the largest collection. These 'Pantins' however were made from cardboard, and were later imported into America where they proved to be very popular toys among both children and adults.
Due to their relatively fragile nature, and the boisterous use these charming folk art toys have often suffered at the hands of small children, antique examples are relatively rare and often have damage to hands and feet.
---
---